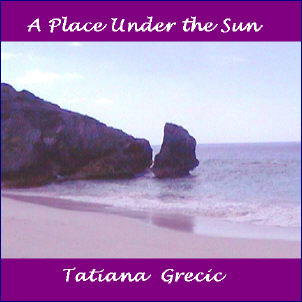 A Place Under the Sun
( Tatiana Grecic's New Release : Piano Instrumental )
2. Sand Dance
3. Evening Tide
6. Death March
7. Ocean and Rain
8. Rainbow Cry
10. Seasons Change
11. Northern Lights L J G
12. Dream Place
In this sensational instrumental album,
Tatiana Grecic tells with her piano - a story
of the life of any living thing on earth. It is
based on the 12 months of a yearly cycle :
that which every living thing must face
with a hope for, a desire for, a need for,
and a celebration of . . . the being in the
appreciation of the warmth of the loving sun.
New Release © 2006, Core-Age R & P.